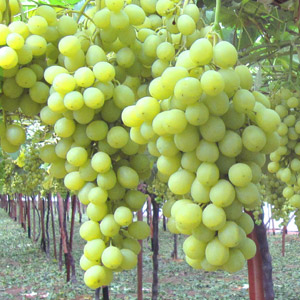 Grapeas (Early Sweet®)
Early Sweet® is the first grape variety to ripen. It is highly productive with a muscat flavour and a good shelf life. The berries are round to oval in shape with a good size of 18 – 22mm.
Harvest weeks 45 – 47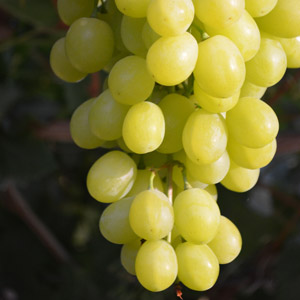 Prime
Prime ripens one week after Early Sweet®. It has oval berries and a good berry size of 18- 22mm. The berries have a thin skin and a muscat flavour when mature. This variety produces high yields.
Harvest weeks 46 – 52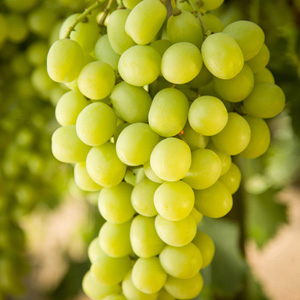 Sheegene 21 (Ivory™)
This variety ripens five days before Sugraone and is extremely crisp with a refreshing eating quality. It has large, uniform berries with a crisp texture and excellent flavour. Ivory™ has low labour inputs requirements for production and its berry size is 20-24mm.
Harvest weeks 48 – 1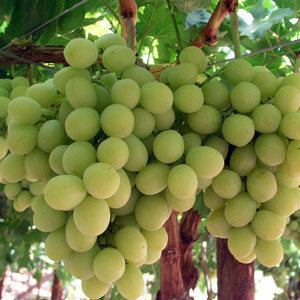 Sugraone (SUPERIOR SEEDLESS®)
Sugraone is a mid-season white seedless variety with a light muscat flavour when mature. It has large oval shaped, crisp and firm berries and berry sizes are 20-22mm. This variety produces moderate yields.
Harvest weeks 45 – 1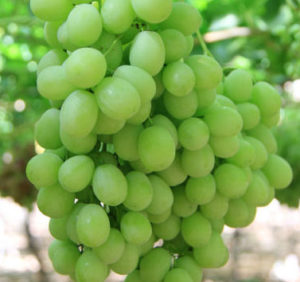 Timpson™
This Thompson alternative has a mild to muscat flavour with berries of average 20mm in size.  Bunches are medium to large in size.
Harvest weeks 1 – 3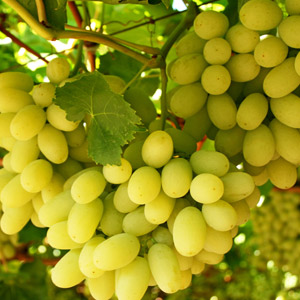 Thompson Seedless
Thompson Seedless is still regarded as the best white seedless variety commercially available. It has a thin skin, crisp outstanding quality and a good sugar: acid ratio. It has elongated berries 17-20mm in size.
Harvest week 52 – 5.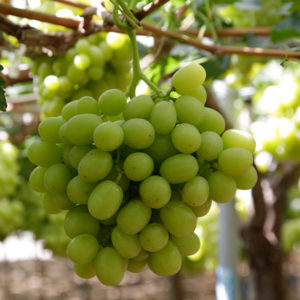 Navsel 1
This new SNFL variety has a well balanced sweet muscat taste with large bunches & berry sizes of 20mm-22mm
Harvest week 3 – 5.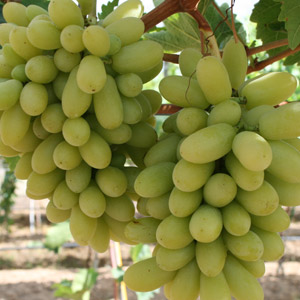 ARRA 15 (ARRA Sweeties™)
ARRA 15 ripens later than Thompson Seedless. This variety produces high yields with good hanging and storage capacity. Very low labour inputs are required for production. The sugar levels can reach 24 brix and the berry size is 18mm – 21mm.
Harvest weeks 52 – 3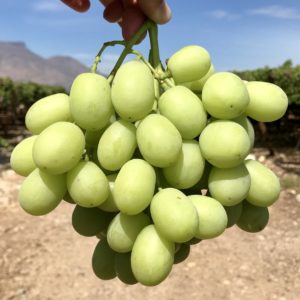 IFG10 (Sweet Globe™)
Sweet Globe™ has a naturally large round to oval-shaped berry and is pale-green to pale yellow in colour. The flesh is very crisp, almost crunchy, while the skin is thin.
Harvest weeks 1 – 3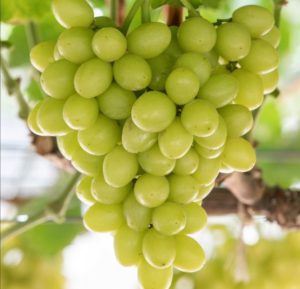 ARRA 33 
ARRA 33 is a very early white seedless variety with an excellent slightly muscat taste & crunchy texture. Berries are slightly oval shaped and average 20-22mm in size.
Harvest weeks 45 – 47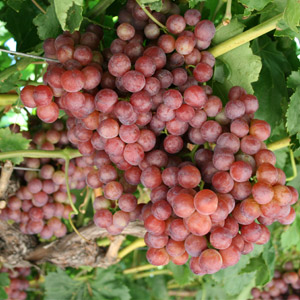 Flame Seedless

Flame seedless is the earliest red variety to ripen. It is an attractive, crisp and juicy variety. The berries are round and 18mm – 22mm in size.
Harvest weeks 48 – 52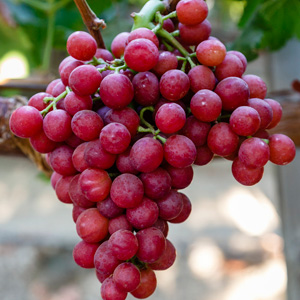 Arratwentynine (ARRA Passion Fire™)
This early red seedless variety has an exceptional eating quality. Arra 29 has a good cherry colour with a sweet apple flavour. Crisp large berries with sizes 22 – 26mm.
Harvest weeks 49 – 52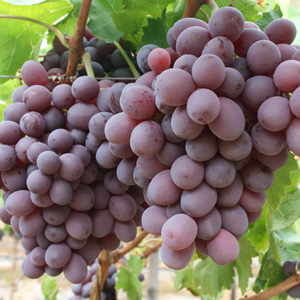 Sheegene 20 (Allison™)
Allison™ is a late season red seedless variety with a deep pink-red colour. The berries are round to slightly elliptical in shape. This highly productive variety has a crisp texture and good flavour. The berry size is 21 – 23mm.
Harvest weeks: 2 – 5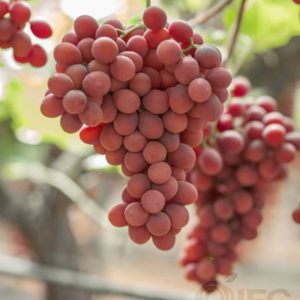 IFG 68-175  (Sweet Celebration™)
Sweet Celebration™ is a brilliant red seedless, oval shaped grape with wonderful flavour & crispy texture. Berries have a naturally large size 25mm with medium sized bunches. This variety has excellent fruit quality with high yields.  Harvest weeks: 50 – 52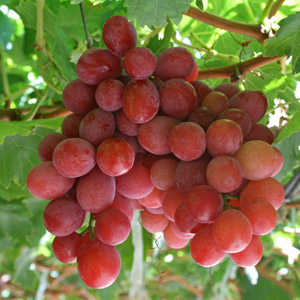 Sheegene 13 (Timco™)
Timco™ ripens just before Crimson and produces a good yield of big, uniform berries with a great flavour. It is more productive than Crimson and requires minimal ethephon for colouring.
Harvest weeks 51 – 3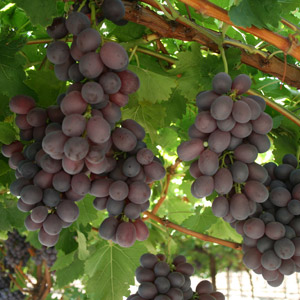 Sheegene 12 (Krissy™)
Krissy™ is an excellent mid-season red seedless with exceptional, 'fruity' flavour due to the perfect sugar-acid balance. This variety has a large berry size and crisp texture.
Harvest weeks 51 – 2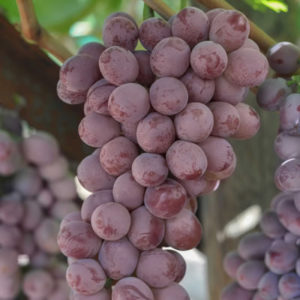 IFG Nineteen (Candy Hearts™)
Candy Hearts™ have a very unique fruity muscat flavour red seedless grape.  The berry shapes are elongated and oval.
Harvest weeks 51 – 01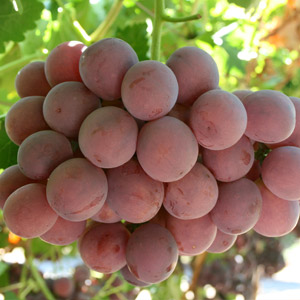 Red Globe
Red Globe is a mid-season red seeded variety with an attractive light pink colour. It produces good yields and requires minimal labour inputs for production. Red Globe has very large round berries with sizes 24 – 28mm.
Harvest weeks 1 – 4.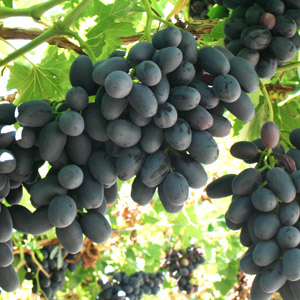 Sugrathirteen (MIDNIGHT BEAUTY®)
This is the earliest black seedless variety. It has a deep purple to black colour with a very crunchy texture and pleasant taste. The variety produces good yields. The berries are elongated with thin skins and a good size 18 – 20mm.
Harvest weeks 49 – 52.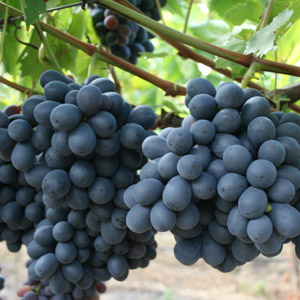 Blagratwo (Melody®)
This is a superb black seedless variety which ripens just before Autumn Royal. Its full black colour is achieved naturally. Melody is highly productive and has large, fully flavoured berries and crisp texture.
Harvest weeks 52 – 4.