GPS Co-ordinates: 
28°30'13.56S
20°09'15.98E
Hectares under production:
42ha
PUC Packing Number:
A0002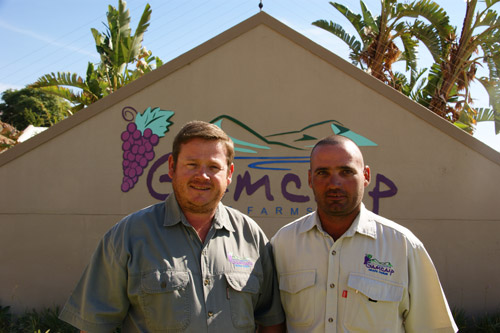 Paul Dippenaar (Owner), Jacques Esterhuizen (Production Manager)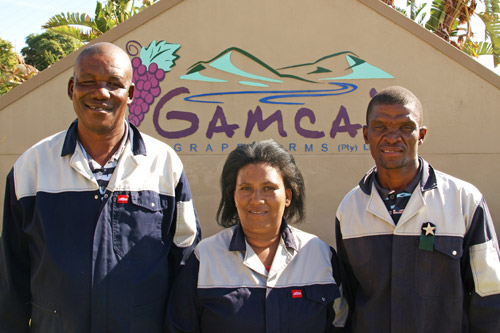 Jeremia Kgetsi (Assistant Manager), Magda Engelbrecht (Assistant Manager), Frans Khubu (Assistant Manager)
Gamcaip was the first farm bought by Paul Dippenaar Snr in 1982. The name Gamcaip is a Khoisan (the name of a local tribe) word meaning fountain in the stream. The fountain is clearly visible in the middle of the Orange River.
When the farm was bought there were no table grape vineyards on the farm. Over the years table grape vines were planted and today there are 42 hectares under grape production on this fully developed farm. The main varieties are Prime, Thompson Seedless, MIDNIGHT BEAUTY®, Melody™, Timco™, Ivory™, ARRA15, ARRA33 and Sweet Globe™.
They are planting Timpson™ this year. (2021)
The pack house at Gamcaip was entirely renovated in 2016 and equipped with the latest MARCO technology. This facility has a daily packing capacity of 10 000 cartons.