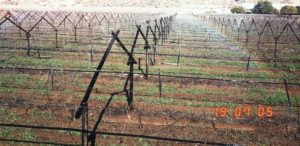 Planting of new orchards and re-establishment of older blocks and varieties takes place during the winter months.  The planting programme for 2019 is as follow:
Gamcaip : A block of Ralli Seedless is being replaced with Ivory.
Grand View: A block of Melody is being replaced with Merbein (for raisins).
Bellevue: Magenta is being replaced with Arra 29.
LA Grape Farms: Avontuur is replacing one block of Joybells with Ivory. Leerkrans is replacing  two Melody blocks with Arra 29.