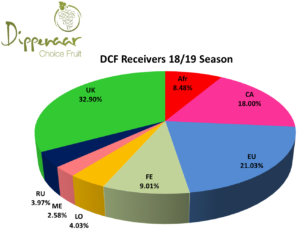 DCF is very pleased with the results of the past harvest despite the fact that our final figures were 4% lower than the initial September 2018 crop estimate. The season started very late.  Mid-season cultivars usually had better fertility.
The later volumes resulted in only 40% of total crop packed before Christmas. Peak intakes of 150 000 cartons per week were packed in week 1 and week 2.
Sales in  December and early January were very slow in Europe. Sales elsewhere were satisfactory.
The overall quality was exceptional with only minor issues and claims recorded. Many thanks to our QC team for their dedication in ensuring that our product was of the best possible quality.
The hot and dry weather conditions that we experienced during our harvest were perfect for successful harvesting and fortunately in our region all farms have good access to continuous water supply from the Orange River.