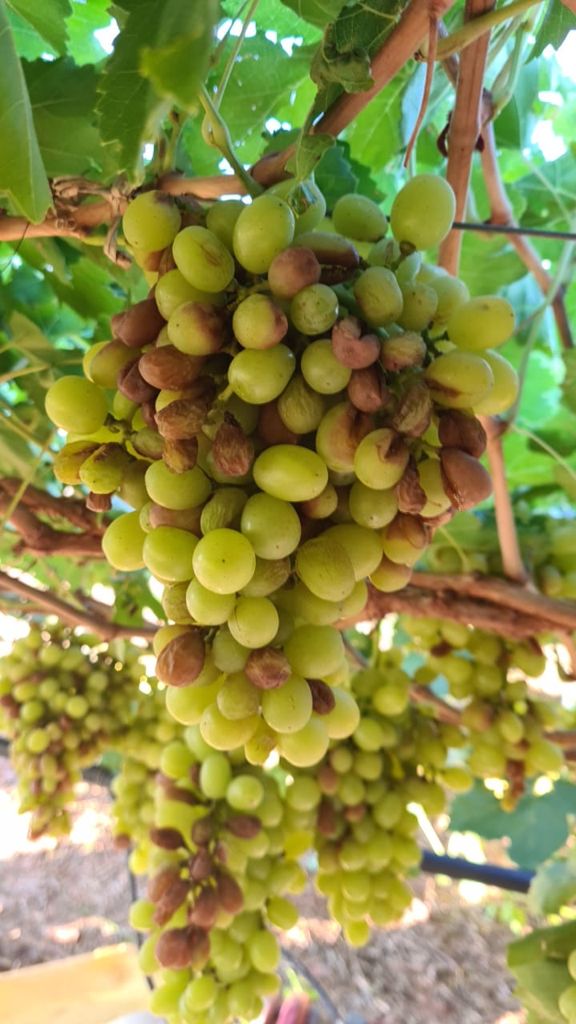 Above: An example of the decay caused to our crop due to the heavy rains in our region during harvest. This is Thompson Seedless.
Post-harvest report
Our 20/21 season kicked off with a very cold winter and good rainfall in the Western Cape. Soon after bud break, a record crop was forecasted with even bud break and good fertility. The initial crop estimate was 5 625 tons. With much anticipation, we started our crop preparation during September, and we were incredibly grateful that the second wave of Covid-19 passed without much impact on our farming activities or our people.
Considerable losses sustained due to several adverse climatic conditions
On the 6th of October we had suffered extensive frost damage in Augrabies and lost 15 ha of Red Globe and Thompsons. Another cold spell in the second week of October caused havoc on the early varieties like Prime and Early Sweet, which were in full bloom at that time. During this period, many of the bunches aborted from the remaining Thompsons and Sugraone vines. As a result of these crop losses, we have adjusted our estimate downwards by 675 tons.
The start of our crop was much later than usual due to continued cold weather during spring. We were only able to start harvesting in week 48 compared to our normal harvest starting time during week 46. The first half of our harvest prior to Christmas progressed well and produced reasonable volumes.
On the 3rd of January disaster struck our region, as the entire lower Orange River region experienced extremely heavy rainfall. In the two weeks following this, we received between 150 and 200mm of rain during our peak harvest period. It was not possible for us to harvest any grapes during week 1 as the grapes were drenched for more than five days. This weather and precipitation at this time of year is totally abnormal as our average yearly rainfall is less than 50 mm per year.
This rain caused the loss of a further 1 350 tons due decay, as well as cracks and splits. We continued after the rains with just the late varieties that were not as much affected. Unfortunately, the crops on our high value varieties Ivory, Thompsons and Timco were all destroyed.
Marketing
Our marketing initiatives started off with the promise of good returns from Asian markets following a return to more normal trading conditions following the disruptions during 2020 due to Covid-19. Unfortunately, this initial outlook was not realised, and returns from the Asian markets proved to be extremely disappointing. Fortunately, our traditional retail markets in the UK and EK proved to be our most reliable markets and returned reasonable prices.  During our marketing period, the secondary and wholesale markets were functioning at reduced levels due to the second wave of Covid 19 and hard lock downs across Europe. The loss of these marketing options considerably reduced our marketing options and programme planning.
Quality
The quality of grapes delivered up to week 4 was fair, but after that much fruit had to be repacked and reselected in EU and UK.
Logistical challenges
Our marketing efforts were also negatively affected by the serious shortage of containers and restricted shipping options, particularly to North America, that the South African fruit industry experienced at the start of 2021.
Financial challenges
Returns from all markets have been lower than during previous years. At the same time, our input costs and shipping costs have increased, and we were also incurred massive repackaging costs in all our market destinations.  In addition, since January the ZAR has strengthened by 25% to levels last seen in 2016.
These adverse circumstances have resulted in a very unsatisfactory outcome for our marketing season, with growers receiving prices on average R30 less than the previous season. The reduction of our harvest by 33%, combined with considerably lower returns, has resulted in a financially constrained position for our group.
Despite these serious setbacks, we have implemented some extensive plans and strategies to remain a competitive supplier of fresh grapes to our loyal international customers. This includes the replacement of unwanted varieties with popular new varieties, the construction of a new pack house at Jowilita Farms and a 1250kWP solar plant.
We look forward to the promise of the forthcoming harvest season with much anticipation and we hope that more favourable circumstances will make it possible for us to rebound with full force in the new season.